The U.S. equestrian community is mourning the loss of Dr. Max Gahwyler, a member of the U.S. Dressage Federation Hall of Fame. He passed away on May 14. A native of Switzerland, Dr. Gahwyler and his wife, Doris, moved to the U.S. in 1952. He was a licensed physician but came to America to work in the medical research field and worked for Pfizer Inc. Once in the U.S., Dr. Gahwyler became immersed in the U.S. dressage community first as a competitive rider and eventually becoming a dressage judge and much loved dressage teacher.

By Bettina Drummond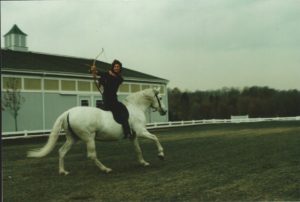 It is with deep sorrow that I share with you the news of the passing of this fine gentleman rider and judge. Max was a student of Hans Handler of the Spanish riding school and a friend and colleague of Mr Niggli. He was an advocate for careful and tailored progressions for training young horses. He was himself an amateur rider up to the Prix St. Georges level and twice qualified for the U.S. Dressage Federation's Century Club – in which a competing rider and horse must have a combined age of 100 years or more. The second time that Max qualified for the Century Club was when he was 77 and competed with my Hanoverian Dresden.
Max was a friend for many years and we shared many enjoyable moments together with the horses, one of which was the day this photo was taken. We had been discussing the ability to control the horse with seat alone and in this photo I was riding my mare Bandaloro — at four months pregnant — sans bridle and shooting arrows behind us. Max was on the sidelines as joyful as I was on horseback. He was very fond of demonstrations that showed the use of the horse through history.
A harsh critic of unstable contact and exaggerated movements, he was a firm believer in FEI regulations in order to protect the horse's integrity. He was also a delver into history to educate the American rider as to why certain rules and classical form had to be adhered to in order to not injure the horse. He wrote many articles as USDF historian, tracing the evolution of contact through warfare as well as books – his Competitive Edge series of books – dedicated to helping the amateur rider navigate pitfalls in the show ring.
Max's greatest joy in his later years on horseback was testing subtlety in aids, using the angle of his pipe and head to change the diameter and rotation of his pirouettes on Dresden. His gentle support, as well as that of his surviving widow, Doris, helped many of us young trainers define our styles and his criticism was always effective due to its caring. He will be greatly missed, but also frequently remembered every time one of us who knew him rides our young horses and takes the time to make it an enjoyable learning process, savoring the intimacy of that conversation.