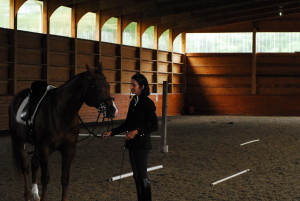 Bettina offers clinics throughout the U.S. and Europe during the year. Below you will find the most current list of upcoming clinics for 2019 as well as contact information for clinic organizers if you are interested in attending a clinic. Bettina is also available for private consultations.
Upcoming 2020 Clinics:
February 26: Consultations in Florida (contact Bettina at pruynstud@earthlink.net or at 203-313-5000).
March 15-16: Écurie La Prella Genestero Tessin, Switzerland 
March 18-20: Consultations at Écuries Bernard Sachse, France
April 1-6: Sherwood, Oregon (contact Kathryn Gruenefeldt at 503-706-8008 or Kathryn.gruenefeldt@gmail.com)
April 17-18: Higher Ground Farm, Hoosick Falls, NY (contact Tasha Judson at natasha.judson@gmail.com)
April 23-26: Tin Girl Farm, Oxford, MI (contact Carol at ccley@aol.com or 248-755-0679)
May 16-17: Bon Accord Lusitanos, Ballston Lake, NY (contact Lois New at bonaccordlusitanos@gmail.com)
June 4-7: Tin Girl Farm, Oxford, MI (contact Carol at ccley@aol.com or 248-755-0679)
June 20-21: Bon Accord Lusitanos, Ballston Lake, NY (contact Lois New at bonaccordlusitanos@gmail.com)
July 23-26: Tin Girl Farm, Oxford, MI (contact Carol at ccley@aol.com or 248-755-0679)
August 10-16: Sherwood, Oregon (contact Kathryn Gruenefeldt at 503-706-8008 or Kathryn.gruenefeldt@gmail.com)
August 29-30: Bon Accord Lusitanos, Ballston Lake, NY (contact Lois New at bonaccordlusitanos@gmail.com)
September 10-13: Tin Girl Farm, Oxford, MI (contact Carol at ccley@aol.com or 248-755-0679)
October 3-4: Bon Accord Lusitanos, Ballston Lake, NY (contact Lois New at bonaccordlusitanos@gmail.com)
October 16-17: Higher Ground Farm, Hoosick Falls, NY (contact Tasha Judson at natasha.judson@gmail.com)
October 22-25: Tin Girl Farm, Oxford, MI (contact Carol at ccley@aol.com or 248-755-0679)
November 20-21: Higher Ground Farm, Hoosick Falls, NY (contact Tasha Judson at natasha.judson@gmail.com)
Past Clinics 2020
January 10-12: Nicasio, California (contact Sharon at scuadzozo@yahoo.com)
January 28: Consultations in Michigan (contact Bettina at pruynstud@earthlink.net or at 203-313-5000).%MCEPASTEBIN%
Past Clinics 2019:
January 3-7: Tin Girl Farm, Oxford, MI (contact Carol at ccley@aol.com or 248-755-0679)
January 25-29:  Oak Hammock Farm, Loxahatchee, FL (561-333-8933 or oakhammockfarm@mac.com)
February 16-17: RCS Stables, Boerne, Texas
February 27-March 3: Saumur, France
March 14-15: Portland, Oregon (contact Pippa Sowers at 541-324-8224)
March 17-18: Sherwood, Oregon (contact Kathryn Gruenefeldt at 503-706-8008 or Kathryn.gruenefeldt@gmail.com)
March 30-31: Good News Farm, Boyd, MD (contact Barbara Baboyian at baboyian@aol.com)
April 11-15: Tin Girl Farm, Oxford, MI (contact Carol at ccley@aol.com or 248-755-0679)
APRIL 27-28: Bettina will be participating in APAHA's Interactive Arts Workshop. Don't miss it! Learn more and buy tickets at apaha.us
May 3-5: Three-day retreat at Periwinkle Farm, New Hampshire (Contact Susan Goldfischer at smgoldWL@gmail.com)
May 11-12: Singing Dog Farm, Halifax, VT (contact Lesley Pollitt at lesleypollitt@gmail.com)
May 18-19: Seat Clinic at Windhorse International, Bethlehem, CT (Contact Sharon Knies at sknies@windhorseinternational.com)
June 5-9: Tin Girl Farm, Oxford, MI (contact Carol at ccley@aol.com or 248-755-0679)
June 15-16: Seat Clinic at Windhorse International, Bethlehem, CT (Contact Sharon Knies at sknies@windhorseinternational.com)
June 28-30:  Periwinkle Farm, New Hampshire (Contact Susan Goldfischer at smgoldWL@gmail.com)
July 5-6:  Singing Dog Farm, Halifax, VT (contact Lesley Pollitt at lesleypollitt@gmail.com)
July 24-28:  Tin Girl Farm, Oxford, MI (contact Carol at ccley@aol.com or 248-755-0679)
August 10-11: Bon Accord Lusitanos, Ballston Lake, NY (contact Lois New at bonaccordlusitanos@gmail.com)
August 15-17:  Portland Oregon (contact Pippa Sowers at 541-324-8224)
August 19-21:  Eastern Oregon (contact Pippa Sowers at 541-324-8224)
September 21-22:  Cado Farm, Belchertown, MA (contact Bonnie Miller at Mgmiller@mtholyoke.edu or at 413-256-3082)
September 27-28: Bon Accord Lusitanos, Ballston Lake, NY (contact Lois New at bonaccordlusitanos@gmail.com)
October 2-6:  Tin Girl Farm, Oxford, MI (contact Carol at ccley@aol.com or 248-755-0679)
October 20-22: Breezy Hill South, Aiken, South Carolina (Contact Elly Schobel at ellyshomestedt@aol.com) POSTPONED
November 16-17: Seat Clinic at Windhorse International, Bethlehem, CT (Contact Sharon Knies at sknies@windhorseinternational.com)
December 1-3: Ashland, Oregon (private consultations)
December 4-6: Sherwood, Oregon (contact Kathryn Gruenefeldt at 503-706-8008 or Kathryn.gruenefeldt@gmail.com)