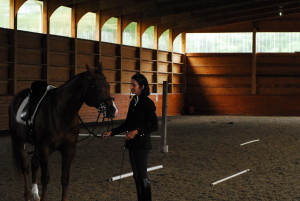 As pandemic restrictions ease, rules regarding auditors vary among barns to please check with barns hosting lessons to find out their specific rules. 
Bettina continues to offer lessons while she undergoes her cancer treatment. Lessons are available remotely or at selected barns. Contact Bettina directly to schedule through email at pruynstud@earthlink.net or through What's App.
APAHA students and riders have priority over the next months and that schedule is quite busy. Below is the anticipated schedule for APAHA students through October:
May 2021:
Elizabeth David — beginning collection on young break ins
Lynndee Kemmet collection on young stock in first outings
June 2021:
APAHA novice and young riders (Rachel, Katie, Maddy and Bryan) on dressage beginnings
July 2021:
Amanda Timolat — groundwork for handling two-year-olds
Elizabeth David — demo prep
August 2021:
Jillian Kreinbring — high school framing and thoroughness for Lusitanos
September 2021:
Shamrock Gregory — high collection for the Quarter Horse
Robyn Waugaman — double bridle use and balance for high collection
October 2021:
Robyn Waugaman — training with her horses
Jillian Kreinbring — work with her horses
2021 Clinic Schedule:
With the pandemic continuing to rage in these early months of 2021, Bettina's clinic schedule remains in flux. She continues to do remote lessons and, additionally, private lessons can be scheduled with Bettina at Overlea Farm, Watertown, CT (contact Rachel at 203-770-0100).
Check back frequently as we update the schedule based on how 2021 unfolds!
Past Clinics 2020
January 10-12: Nicasio, California (contact Sharon at scuadzozo@yahoo.com)
January 28: Consultations in Michigan (contact Bettina at pruynstud@earthlink.net or at 203-313-5000).
February 26: Consultations in Florida (contact Bettina at pruynstud@earthlink.net or at 203-313-5000).
March 12-16: Consultations in Michigan
April 1-6: Sherwood, Oregon (contact Kathryn Gruenefeldt at 503-706-8008 or Kathryn.gruenefeldt@gmail.com)  POSTPONED UNTIL FURTHER NOTICE DUE TO TRAVEL RESTRICTIONS
April 17-18: Higher Ground Farm, Hoosick Falls, NY (contact Tasha Judson at natasha.judson@gmail.com) POSTPONED
April 25-26: Tin Girl Farm, Oxford, MI (contact Carol at ccley@aol.com or 248-755-0679) POSTPONED
May 16-17: Bon Accord Lusitanos, Ballston Lake, NY (contact Lois New at bonaccordlusitanos@gmail.com) POSTPONSED
July 6-7: Singing Dog Farm, Halifax, VT (contact Lesley Pollitt at lesleypollitt@gmail.com)
July 14-15: Higher Ground Farm, Hoosick Falls, NY (contact Tasha Judson at natasha.judson@gmail.com)
July 19-20: Singing Dog Farm, Halifax, VT (contact Lesley Pollitt at lesleypollitt@gmail.com)
July 28-29: Higher Ground Farm, Hoosick Falls, NY (contact Tasha Judson at natasha.judson@gmail.com)
August 2-3: Singing Dog Farm, Halifax, VT (contact Lesley Pollitt at lesleypollitt@gmail.com)
August 16-17: Higher Ground Farm, Hoosick Falls, NY (contact Tasha Judson at natasha.judson@gmail.com)
August 21-25: Tin Girl Farm, Oxford, MI (contact Carol at ccley@aol.com or 248-755-0679) 
August 30-31: Singing Dog Farm, Halifax, VT (contact Lesley Pollitt at lesleypollitt@gmail.com)
September 22-23: Bon Accord Lusitanos, Ballston Lake, NY (contact Lois New at bonaccordlusitanos@gmail.com)
September 13-14: Singing Dog Farm, Halifax, VT (contact Lesley Pollitt at lesleypollitt@gmail.com)
September 24-27: Écurie La Prella Genestero Tessin in Switzerland and Écuries Bernard Sachse in France. POSTPONED UNTIL FURTHER NOTICE
September 27-28: Singing Dog Farm, Halifax, VT (contact Lesley Pollitt at lesleypollitt@gmail.com)
October 6-7: Higher Ground Farm, Hoosick Falls, NY (contact Tasha Judson at natasha.judson@gmail.com)
October 11-12: Singing Dog Farm, Halifax, VT (contact Lesley Pollitt at lesleypollitt@gmail.com)
October 15-19: Tin Girl Farm, Oxford, MI (contact Carol at ccley@aol.com or 248-755-0679)
October 25-26: Singing Dog Farm, Halifax, VT (contact Lesley Pollitt at lesleypollitt@gmail.com)
November (specific dates TBA later): Western trip combining clinics in Oregon and California.  For Sherwood, Oregon clinic contact Kathryn Gruenefeldt at 503-706-8008 or Kathryn.gruenefeldt@gmail.com. For the California clinic, contact Bettina directly at pruynstud@earthlink.net. POSTPONED DUE TO PANDEMIC
November 3-4: Higher Ground Farm, Hoosick Falls, NY (contact Tasha Judson at natasha.judson@gmail.com)
November 17-18: Higher Ground Farm, Hoosick Falls, NY (contact Tasha Judson at natasha.judson@gmail.com)
December 1-2: Higher Ground Farm, Hoosick Falls, NY (contact Tasha Judson at natasha.judson@gmail.com)
December 15-16: Higher Ground Farm, Hoosick Falls, NY (contact Tasha Judson at natasha.judson@gmail.com)
December 29-30: Higher Ground Farm, Hoosick Falls, NY (contact Tasha Judson at natasha.judson@gmail.com)
Past Clinics 2019:
January 3-7: Tin Girl Farm, Oxford, MI (contact Carol at ccley@aol.com or 248-755-0679)
January 25-29:  Oak Hammock Farm, Loxahatchee, FL (561-333-8933 or oakhammockfarm@mac.com)
February 16-17: RCS Stables, Boerne, Texas
February 27-March 3: Saumur, France
March 14-15: Portland, Oregon (contact Pippa Sowers at 541-324-8224)
March 17-18: Sherwood, Oregon (contact Kathryn Gruenefeldt at 503-706-8008 or Kathryn.gruenefeldt@gmail.com)
March 30-31: Good News Farm, Boyd, MD (contact Barbara Baboyian at baboyian@aol.com)
April 11-15: Tin Girl Farm, Oxford, MI (contact Carol at ccley@aol.com or 248-755-0679)
APRIL 27-28: Bettina will be participating in APAHA's Interactive Arts Workshop. Don't miss it! Learn more and buy tickets at apaha.us
May 3-5: Three-day retreat at Periwinkle Farm, New Hampshire (Contact Susan Goldfischer at smgoldWL@gmail.com)
May 11-12: Singing Dog Farm, Halifax, VT (contact Lesley Pollitt at lesleypollitt@gmail.com)
May 18-19: Seat Clinic at Windhorse International, Bethlehem, CT (Contact Sharon Knies at sknies@windhorseinternational.com)
June 5-9: Tin Girl Farm, Oxford, MI (contact Carol at ccley@aol.com or 248-755-0679)
June 15-16: Seat Clinic at Windhorse International, Bethlehem, CT (Contact Sharon Knies at sknies@windhorseinternational.com)
June 28-30:  Periwinkle Farm, New Hampshire (Contact Susan Goldfischer at smgoldWL@gmail.com)
July 5-6:  Singing Dog Farm, Halifax, VT (contact Lesley Pollitt at lesleypollitt@gmail.com)
July 24-28:  Tin Girl Farm, Oxford, MI (contact Carol at ccley@aol.com or 248-755-0679)
August 10-11: Bon Accord Lusitanos, Ballston Lake, NY (contact Lois New at bonaccordlusitanos@gmail.com)
August 15-17:  Portland Oregon (contact Pippa Sowers at 541-324-8224)
August 19-21:  Eastern Oregon (contact Pippa Sowers at 541-324-8224)
September 21-22:  Cado Farm, Belchertown, MA (contact Bonnie Miller at Mgmiller@mtholyoke.edu or at 413-256-3082)
September 27-28: Bon Accord Lusitanos, Ballston Lake, NY (contact Lois New at bonaccordlusitanos@gmail.com)
October 2-6:  Tin Girl Farm, Oxford, MI (contact Carol at ccley@aol.com or 248-755-0679)
October 20-22: Breezy Hill South, Aiken, South Carolina (Contact Elly Schobel at ellyshomestedt@aol.com) POSTPONED
November 16-17: Seat Clinic at Windhorse International, Bethlehem, CT (Contact Sharon Knies at sknies@windhorseinternational.com)
December 1-3: Ashland, Oregon (private consultations)
December 4-6: Sherwood, Oregon (contact Kathryn Gruenefeldt at 503-706-8008 or Kathryn.gruenefeldt@gmail.com)