During a recent clinic trip to California, Bettina made a surprise visit to fellow Oliveira student Dominque Barbier: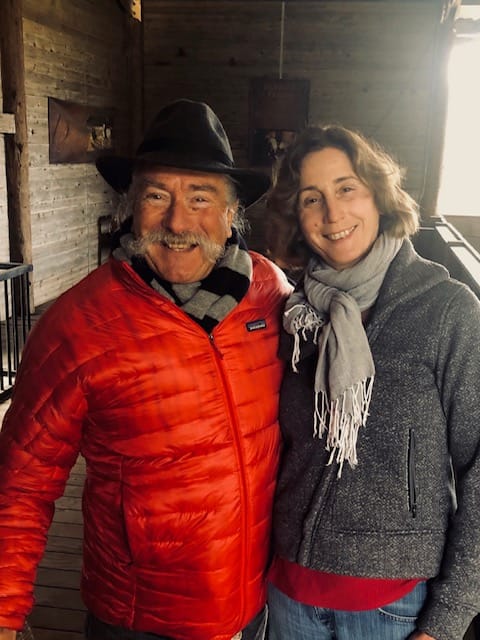 "I landed yesterday in Santa Rosa, California to visit with Mari Austad Bourque, the owner of the excellent horse Nabucco (bred by France's Dany Lahaye and that I broke in years ago), this before my new clinic in Nicasio. Mari mentioned to me that my friend Dominique Barbier lived ten minutes away! So we gave him a surprise visit as I wanted to congratulate him on the success of his memoirs of our time with the maitre Oliveira in Portugal. He was teaching a shoulder in session and when he looked up I said 'you've told me to drop in for fifteen years so here I am.'
I got to see his fine stables and hobnob with his Do Top horses and watch his two up and coming home-bred young horses lunge. All this while reminiscing and laughing at the feeling of being linked by so much love for Lusitanos ridden a certain way. I also confessed my battle fatigue at seeing these horses ridden in the warped fashion and horrific curb contact found in the dressage show ring. I shared with him my decision to no longer counsel such riders and to keep simply helping good-loving horse owners who simply wish to learn the old way of training with the rules that protect horses from our mistakes in riding.
It was such a pleasure to be with a fellow student who witnessed training of another age and caliber and not to have to struggle against the notion that if you train a good horse it must go out like a puppet and put out movements no matter the lack of balance and lightness. This was the real sunshine that California offers…