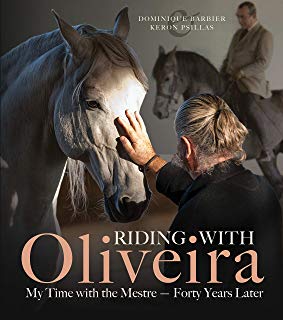 An enjoyable trip down memory lane was Dominique Barbier's latest book, Riding with Oliveira: My Time with the Mestre – Forty Years Later, revisiting his couple of years spent in Avessada with the Maître , now as Mestre Nuno to his students in Portugal.
It brought back the ambience of that amalgam of artist fervor and displayed and discussed technique , which made the time there so different. I also recalled the several instances of Dominique's great kindness to the child I was, struggling to adapt from a very lively French family life to a colony of adults, all mesmerized around collective endeavor to equestrian higher education.
Dominique's book shows how he has tried to bring that influence on his rider's soul to his studies. It also brought several of us together in our memories of that time to share with those of you who did not have the opportunity to see and hear the Maître at work.
This is a book well worth reading.