I recently decided to refresh my rider's mind with a visit to certain écuyers in France during my May clinic run.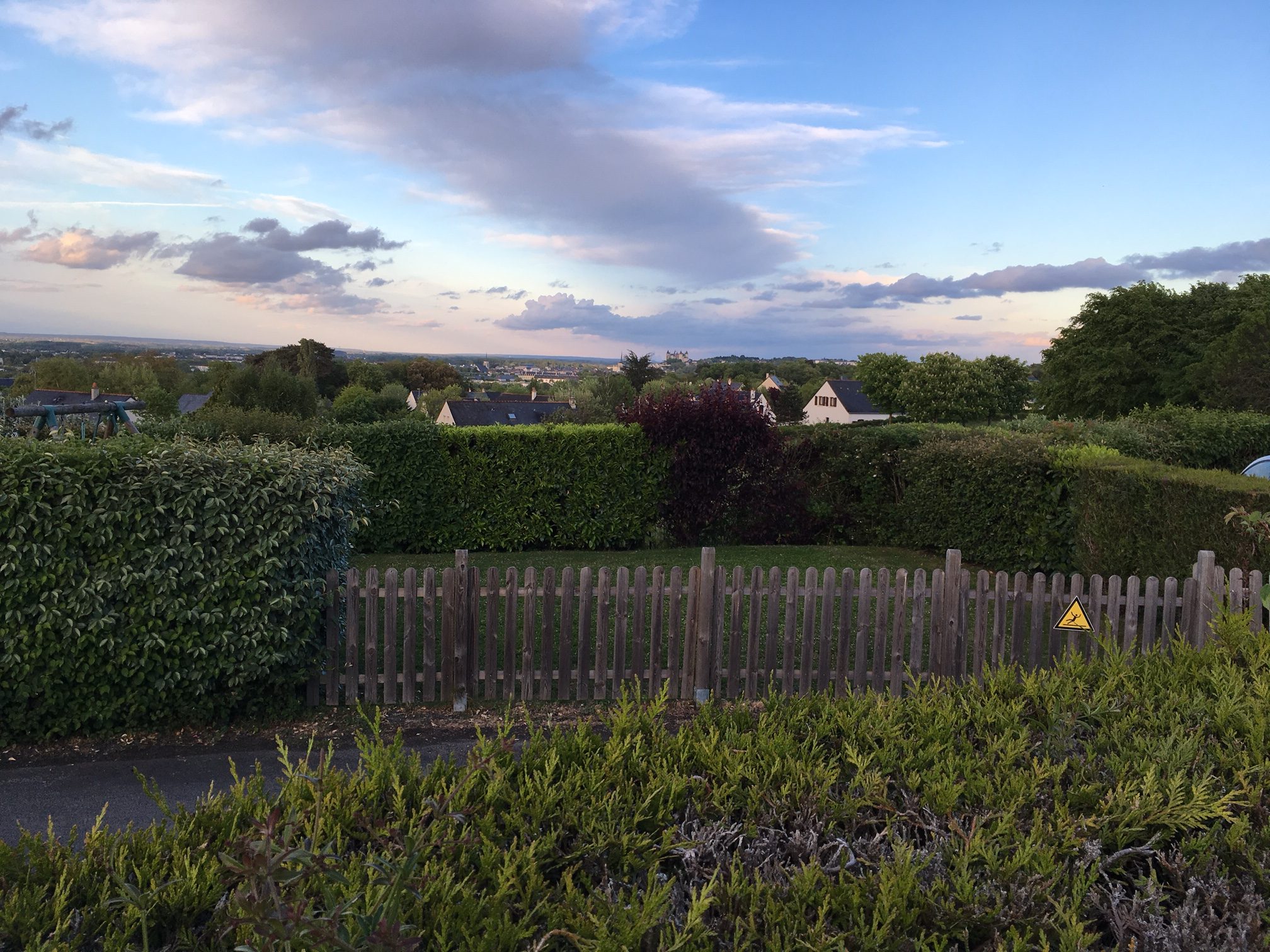 It had been a long while since I had been able to travel long distances and therefore had not been able to dialogue with any practicing Baucheristes, who like me, made a career in the current horse world whilst keeping true with our private pursuit of this methodology. It was lovely to be invited to watch the contact each rider had with their personal horse and reminded me in this swing career year for me of the particular pleasure it is to be at home with your horse, your conviction and your love for it all. I began my trip with a visit to my oldest student based in Rennes and got to ride my friend Ann Klrmenrz's lovely young horse (I apologized for passaging and bouncing on his back but I was still in rehab from my February accident). Also, I pushed on a young horse of Brigitte Moreau who was overdue an upgrade to third level-ish movements (She insists that she will not push on if she has not had my guidance, a most charming kind of blackmail!) I had the pleasure of teaching a young professional – M. Ydris who had put some really nice touches on his horses and was open to the idea that lightness was not an extra. His client and owner of a tricky Dutch horse (are there any that are not??!!!) Cyril allowed me to have ground work half-school feel of this elegant grey and I particularly loved the loft of his flying change. All this in all a lovely group and all concerned with not harming the horses in a psychological level as much as a biomechanical one. That is the reason for my longevity as a teacher really! I walk away from teaching when the ambitions of the rider take away that integrity and honesty. This group always gets a return visit as they never let that ideal down.

I then stopped in at Saumur to visit with Olivier Puls, who had greeted me personally when I taught at their colloque three years ago. He had brought Verdi back from a virtually rootless state and showed me lovely pictures of this Peigne stallion at 30-plus years old (My stallion Ilyad and Novador are Verdi's nephews and I had watched his training years ago when I worked for the Peignes, who also bred Mimi.) Olivier mentioned then that he'd love an eye on the ground for his rehab on Red a Holsteiner should I be in France again. So, we shared a lovely afternoon with Verdi's new owner, Jeanne Boisseau, who wrote "encounters with exceptional riders " and Cheyenne one of the young people studying for her monitorat and who had been one of my teaching tools at the colloque (She gets points for being around on a weekend day caring for horses!) I saw a really personalized ground approach to bailing problems and the interesting work of putting light back into a horse's eye. We also had an exchange on long lining techniques and I was able to volunteer an Oliveiraism that adjust further the first attempts of this team's piaffer passage. I highly recommend looking for that type of horsemanship and Olivier's book on entertaining a dialogue with your horse is a gem. I've experimented a bit with some of his approach this season of breaking ins and hope to return in November to discuss my findings or adaptations with this open-minded horseman. An unexpected invite but the highlight for me was an early morning drive with my friend and occasional coach Judge Bernard Maurel who took me to a bijou village to meet with Patrice Franchet d Esperey. He is a learned man who researched many interesting historical training progressions tracing their origins. He is also a fellow baucheriste and rides his young stallion in his garden same as I do (My idea of haute ecole in the garden finds an echo here). We had only a couple of hours but it was tremendously reassuring to share convictions and discuss applications of it. I sometimes don't see the world I came from and that formed me for years. So when I do get a glimpse of that, it is like Fourth of July for me.
I followed this up with a few hours of watching an ecuyer whom I had seen work with Mr. Oliveira thirty years ago when I was there as Nuno's demonstration rider. His demo rider Mr Alain Francois has now as much as then the love of horses always in evidence and his interest in keeping them safe and executing the grand prix requirements within the boundaries of their capacities was a joy to witness. The horses were respectfully moved up without being pushed on. Their new school is beautifully laid out and thoughtfully planned well done Jorg! Alain inspired my bad back as he always had so much 'liant' -French word that implies useful suppleness! I've just been cleared to sit deep on horses again and I hopped on determined to find that good place I saw Alain go to.
The next day I visited with Colonel Teisserenc and we followed up on our Florida conversations with a ridden show and tell based around balance for the grand prix tour. The fun for me was being able to do this without having to argue on contact as his was stable and elevated without choking the talented mare he has to ride. When she sat down beautifully in piaffer then lifted easily to passage with clearer control in her hock elevation, we both had smiles and I swear she looked at me approvingly too! I told Patrick that Simply Pretty ( the mare's given name)  had just changed to Quite Beautiful.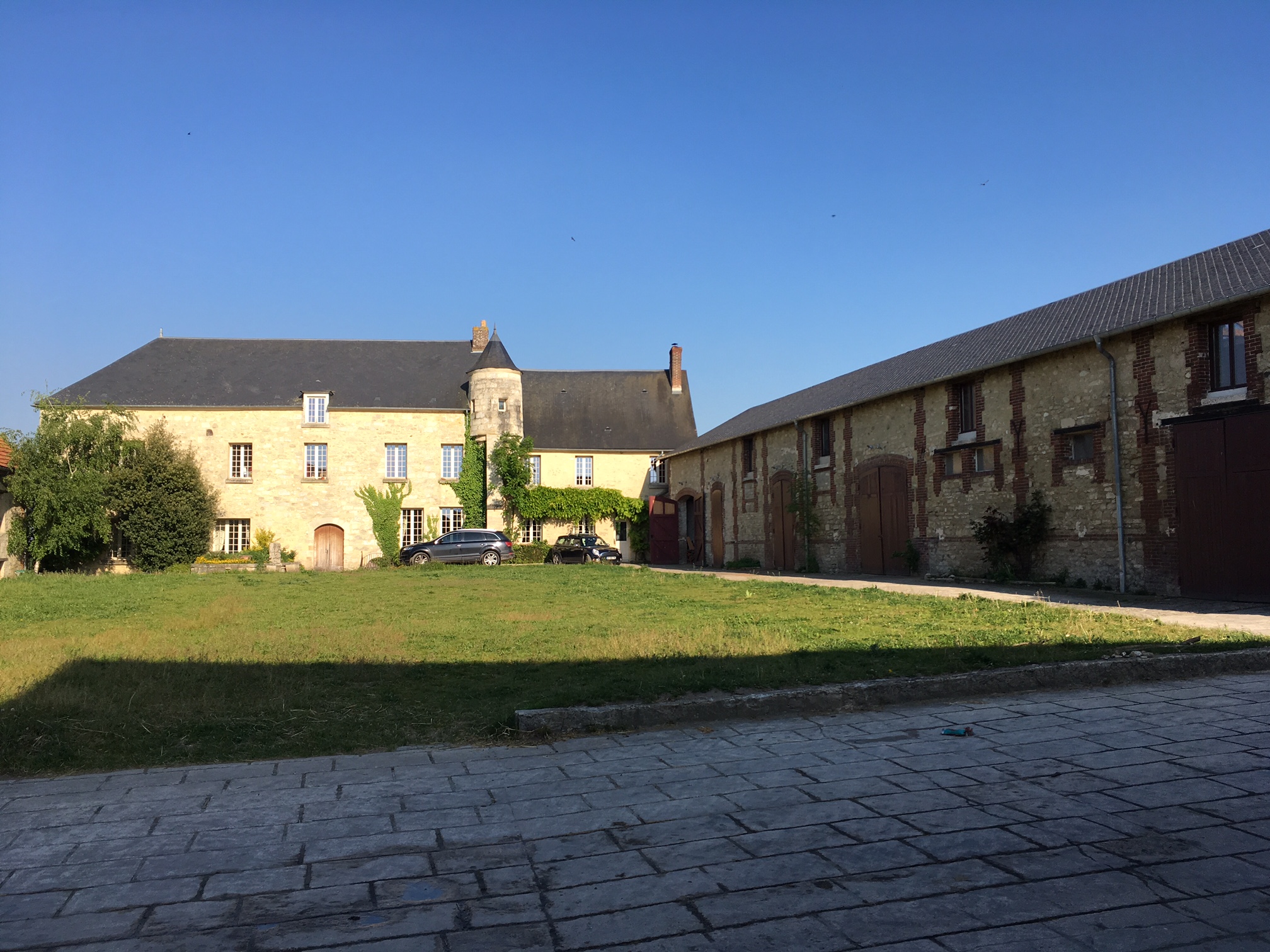 The last leg of my trip was to my friend and soul brother Bernard Sachse's place and I was asked to teach his students. He had them beautifully prepared to focus, relax and hear balance so I just added some good old American know how and riding goals based on the physical needs of the horses for the next level of endeavor. This is what coaching ought to be, everyone knowing their instruments and ready to follow a new orchestra chief even through a new score!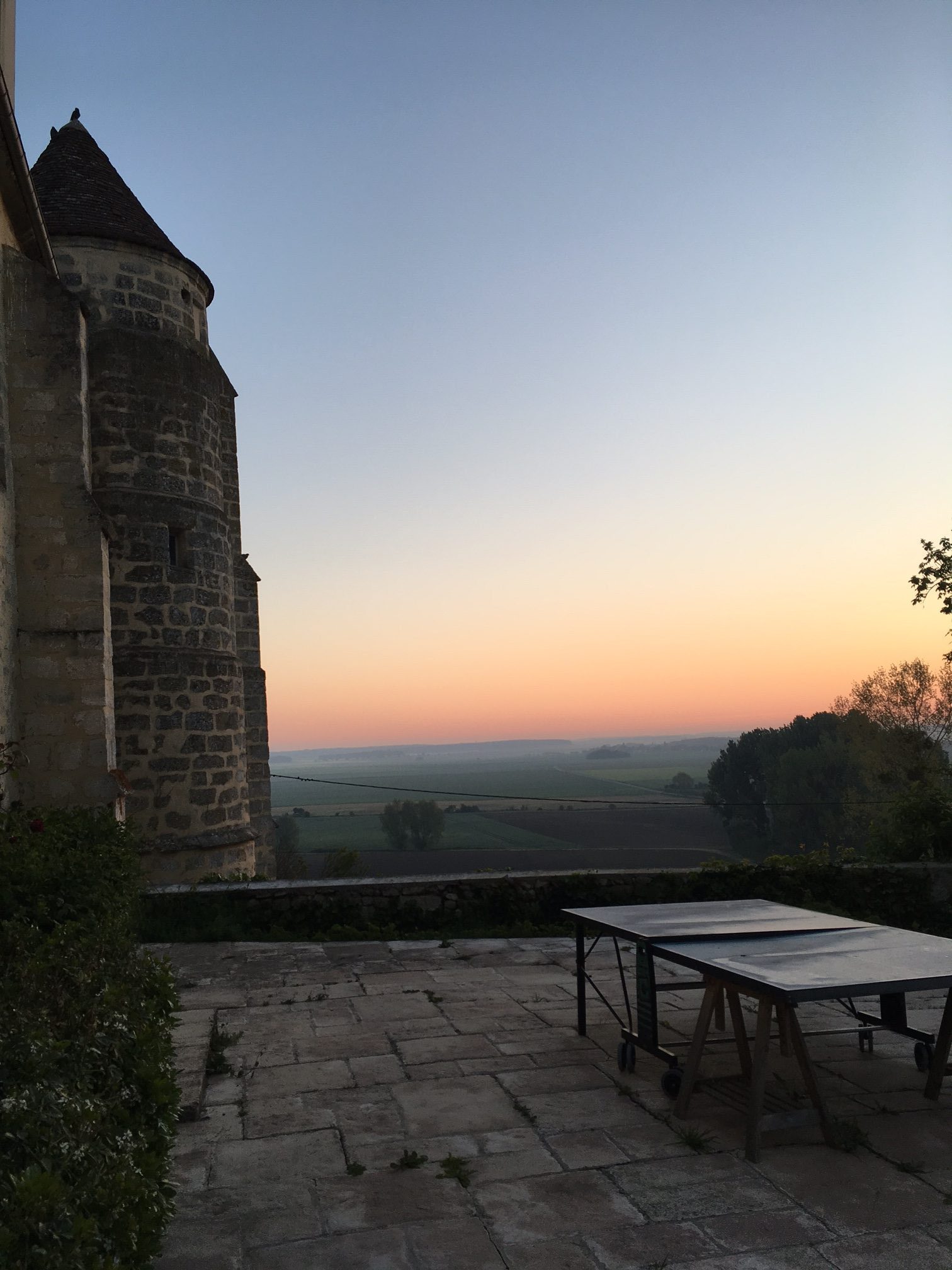 I pushed on three students, one young lady with a great potential who had a horse trained to do movie stunts so when she unleashed some lift in the work he was using the past training live the potential in her dedication courage and caring and being able to help unlock the horse to another career.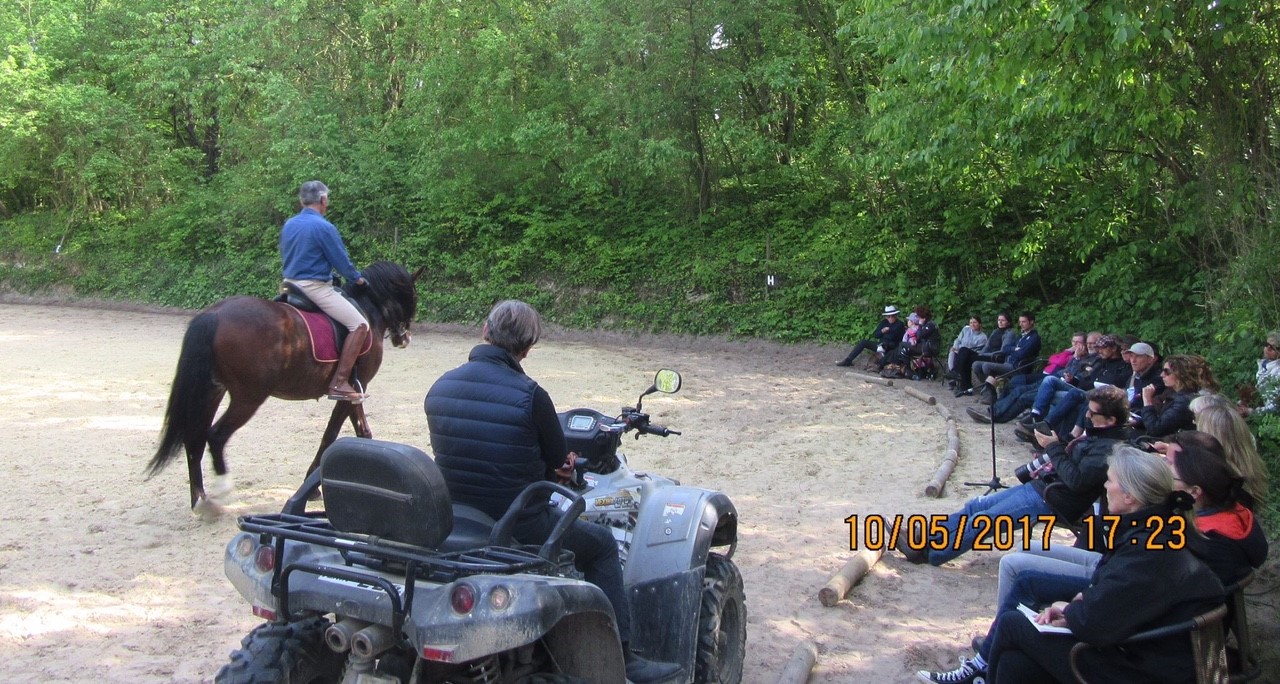 One of the outside ladies was a vet self taught with a clever caring horse. They took the seat influence info and got to the desired changes but the rider looked surprised that we got it done! American can do needs to come back to the spotlight seemingly. The last rider had a very sensitive PRE and was herself so internally timed that she was not letting in outside influence nor being aware of the external stimuli on her horse's mouth. It was a hard choice to intervene since most riders I coach are too external! But she ended well and I loved the sensitivity of this rider once she'd come out of her shell and moved with the horse out in his world. Bernard then coached me on my favorite horse …. the mechanical one! He showed me how to work my damaged leg through feet adjustments and I helped him with rib and mid back influence. Talk about two kids in a candy store!
We had the same look as fox cubs mock fighting and using time in games to learn a serious job. I got to coach Agnes Sachse on a charming Anglo with a good back but that had been badly broke to the double bridle. We did a lot of work on his midsection to train her leg to have a place and job in rounding him up and then worked the tempos around that upgrade. She also got my kit for woman's pelvic floor and midback defense against arching and bracing. I had my first at home guest experience since my long battle with Lymes and thanks to all their laissez faire enjoyed the experience. My favorite athlete was the pigmy bobcat who did Olympic hurdle training at night. Those big paws cover ground!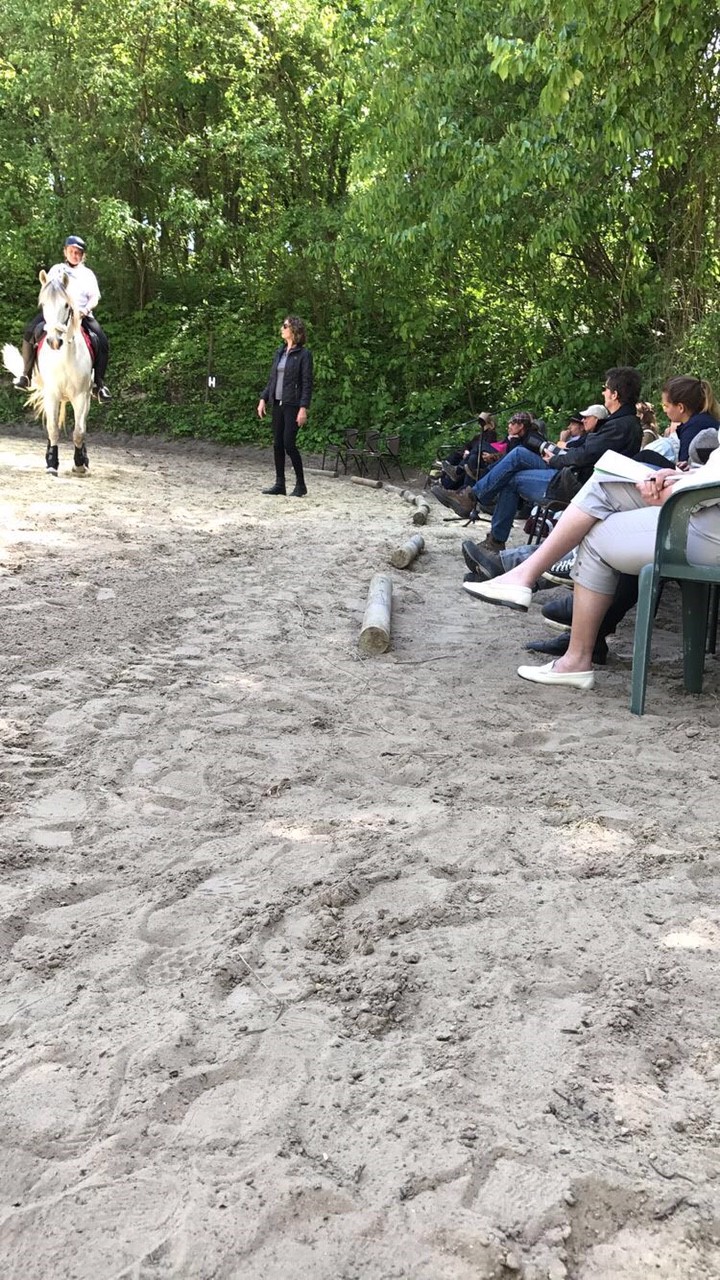 All in all the French word se ressourcer says it all — To return to the source of your beginnings and recharge. And I got to do this because of never faltering in my belief of the use of tact, finesse and hearing horses that is the hallmark of French tradition with reactive horses. To all of you with tricky hot horses or sensitive kind natures: get thee to France and get away from the new non roll keur roll keur!